Kehlani-PartyNextDoor-Kyrie Irving Apparent Love Triangle Has Twitter in Shambles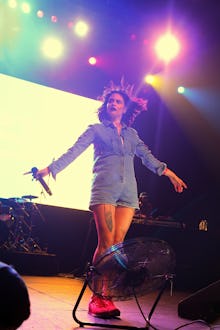 A recent Instagram post involving a particularly conspicuous tattoo has Twitter ablaze. All-star NBA point guard Kyrie Irving, Canadian singer PartyNextDoor and Kehlani, an R&B singer-songwriter, are at the focal point of a controversy stemming from their supposed relationship statuses after Kehlani, who posted an image of herself and the Cleveland Cavaliers point guard celebrating Valentine's Day, was allegedly shown in a Instagram post on PartyNextDoor's page on Monday.
The tattoo on the person's hand in PartyNextDoor's photo appears to match the tattoo on Kehlani's hand, which reads "woke." The caption read, "After all her shenanigans, still got the R&B singer back in my bed." The posts are now deleted, and Kehlani has deleted all of her social media accounts. It is unclear if Kehlani and PartyNextDoor are back together.
Read more: This Woman Is Calling Out Facebook's Shameful Double Standard on Sexual Harassment
PartyNextDoor, whose real name is Jahron Anthony Brathwaite and is signed to Drake's OVO label, and Kehlani had a public relationship, and the two broke it off in 2015, with PartyNextDoor recording a song called "Kehlani's Freestyle." According to a Genius post seemingly cosigned by Neenyo, PartyNextDoor's producer, the artist created the song about the breakup when the alleged relationship ended. Months later, rumors began to circulate about Kehlani's relationship with Irving.
People on Twitter, as always, had much to say about this recent development in events, from the funny to the thoughtful to the deeply misogynistic.
Ayesha Curry, who has unfortunately become a living metaphor for respectability politics whenever relationships are discussed after her comments about dressing modestly, is also trending among those who seek to compare the wife of NBA All-Star Stephen Curry to other women.
All in all, it still has not been confirmed that Irving and Kehlani were an exclusive couple, or if this is even a recent image. But if the image is true, this might say more about the Canadian artist than it does about Kehlani.
March 28, 2016, 6:26 p.m. Eastern: This story has been updated.
Correction: March 28, 2016