Stonewall Inn: Transgender Woman Sexually Assaulted in Bathroom of Historic NYC Gay Bar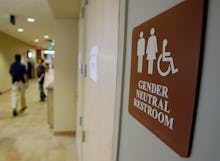 A transgender woman was sexually assaulted in the bathroom of Stonewall Inn, a gay bar in New York and the site of the 1969 riots that sparked the gay rights movement, on Saturday night, PIX11 reported.
Police say the incident occurred at 11:40 p.m. The victim, 25, informed police that she was in the bathroom when the suspect said he needed to wash his hands aloud. The suspect then sexually assaulted her, according to the victim's statement. The bathroom is single occupancy. 
Read more: Being Transgender Doesn't Make Kids Anxious or Depressed. Their Families Do.
The victim then called the police an hour later and was taken to Lenox Hill Hospital. The suspect is a man that stands 5 feet, 10 inches, and weighs somewhere around 250 pounds. He also has a goatee, and was last seen wearing a grey suit. 
Those with any information about the incident can contact the NYPD Crime Stoppers through their website, or by phone by calling 1-800-577-TIPS or texting "TIP577" plus a message containing the info to 274637 (CRIMES).