How to Make Hagrid's Rock Cakes, the Least Favorite Treat of the 'Harry Potter' Series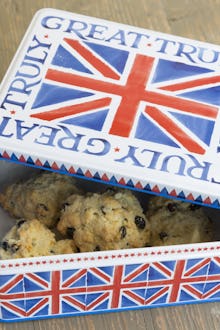 J.K. Rowling didn't make Hagrid's tooth-threatening rock cakes sound particularly appealing. These were the treats Harry Potter and company politely skirted during afternoon tea with the Keeper of the Keys at Hogwarts School of Witchcraft and Wizardry. 
Read more: These 'Harry Potter'-Inspired Pumpkin Pasties Recipes Make Savory, Sweet Treats
But in real life, rock cakes — or rock buns, as they're alternately called in the U.K. — don't necessarily connote a consistency like concrete. One BBC Good Foods user described them as "light and crumbly," suggesting that rock cakes are a considerably more enjoyable snack outside the wizarding world. That's probably why they're a part of classic British fare.
Luckily for the adventurous Harry Potter fan, rock cakes are easy to make. The Leaky Cauldron even has a recipe for them posted on its site, suggesting that Hagrid's baking abilities were maybe more substantive than Harry, Ron and Hermione let on. Or maybe it's just that children are picky eaters.
In any case, the Leaky Cauldron's recipe for Hagrid's rock cakes is below:
Prep time: 27 minutes 
Ingredients:
· 2 cups self-rising flour (alternatively, you can substitute regular flour and sift with 2 teaspoons baking powder)
· Pinch of salt
· 1/2 cup butter or margarine
· 1/2 cup finely granulated sugar
· 1 cup mixed dried fruit
· Rind of a small orange, finely grated
· 1 egg, beaten
· 3 tablespoons. milk
· Juice of half the small orange
(Makes about 36 servings)
Instructions:
· Preheat the oven to 425 degrees Farenheit.
· Lightly grease enough baking sheets to accommodate 36 rock cakes.
· In a large bowl, sift together flour and salt. Using a pastry blender, cut in the butter or margarine.
· Stir in sugar, orange rind, dried fruit and egg before adding the milk and as much juice as needed for the dough to take on a sticky consistency. It should stand in peaks when you raise your spoon.
· Drop walnut-sized pieces of dough onto the baking sheets. Resist the urge to roll them into smooth balls — rock cakes get their names from their rough texture — not because they're hard as rocks.
· Bake for 10 to 12 minutes, or until the cakes are golden brown. Allow to cool completely on racks and serve, maybe with some butterbeer.