Big Sean and Jhene Aiko Coming Together for 'Twenty88' Project — New Music Drops April 1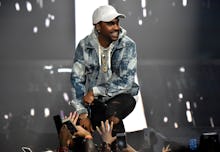 Detroit rapper Big Sean and Los Angeles singer-songwriter Jhene Aiko are coming together to drop the collaborative album Twenty88 on April 1. The album "tells the story of the highs and lows of a relationship, with insights into conflict, memories, love, sex and more, and features production from Key Wane, Detail and Tommy Brown," according to a press release, MTV reported. 
Read more: Rihanna's 'Anti' Is for Herself and No One Else
Not much is known about the collaborative project between the two artists, save a few videos and teasers posted on social media. But this isn't the first time the duo has come together. 
Big Sean and Jhene Aiko joined forces on Dark Sky Paradise for the tracks "I Know" and "Win Some, Lose Some." The duo also came together for "Beware" off Big Sean's Hall of Fame album, and then Detroit's "I'm Gonna Be."
Twenty88 will be available to stream exclusively via Tidal for only four days, according to Billboard. The two artists will appear on Jimmy Kimmel Live on March 31, a day before the release.