SoundCloud Launches a New Subscription-Based Service to Compete with Spotify and Tidal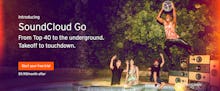 As if the battle for streaming dominance currently taking place between Spotify, Apple Music and Tidal wasn't brutal enough, a new challenger is about to enter the ring. 
Long-rumored and much-hyped, SoundCloud, the creator-focused music sharing platform, has launched their own subscription-based streaming service. Called SoundCloud Go, the new service boasts a "significantly expanded catalog," according to a press release, bringing in the "greatest established and hottest emerging artists" from the majors down to the basement remix-head. 
They'll be making it available for that same magic monthly price of $9.99, except for those trying to log in from an iPhone. Thanks to an "additional transaction fee," iOS users will have to shell out $12.99 to get access to SoundCloud Go's new features.
As far as new features go, there's nothing too out there. Users will have the same ability to take music off-line as they have with Spotify, Apple Music and Tidal. Paying users won't be bombarded with ads, as they have been since SoundCloud first launched its monetization options in August 2014. 
Obviously the biggest benefit is having access to the entirety of SoundCloud's varied content — the podcasts, raw demos, DJ sets and remixes, which have all found a home on the platform. And now with the launch of SoundCloud Go, the platform now adds a whole new echelon of artists from all the major labels. Music's aristocrats and its democratic base of creators are now all in one place. Yet those happy with the way things were can keep using the free service as they always have.
SoundCloud has been working towards this day for years. Following a protracted legal struggle to find compensation for the copyright violations perpetrated by its remix communities, SoundCloud has been working to court the majors and have them sign onto the platform. The last major hold out was Sony Music, which confirmed it had struck a deal on March 18. 
Eleven days later, we have a streaming service.
Its roll-out has been much more subdued than previous launches, like Apple Music, which came with a Drake speech and Weeknd performance, or Tidal, which launched with a full Illuminati who's who event. Yet SoundCloud has far less to prove. They're already the world's biggest listening platform with 175 million monthly listeners. Ostensibly the addition of the major labels will only bring in even more.
Fans can try SoundCloud out free for the first 30 days to see if the balance the world's largest streaming platform has struck between major and independent artists offers the revolution in streaming we've been waiting for.