How to Make a 'Harry Potter'-Inspired Cauldron Cake That'll Bring the Magic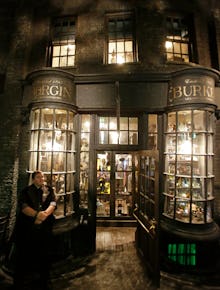 Want to impress your friends that love the Harry Potter franchise?  Try your hand at making one of the treats from the wizarding universe, the cauldron cake. 
The cauldron cake, a popular cake in the wizarding world, was first produced in Pakistan in 1854, by Qizilbash Quality Confectionary, according to the Harry Potter Wiki. The cakes can be bought at the Honeydukes Sweetshop in the small village of Hogsmeade in the Harry Potter universe, or on the food trolley located on the train heading into the Hogwarts School of Witchcraft and Wizardry. 
Read more: Here's How to Make Your Own 'Harry Potter'-Inspired Butterbeer
A blog dedicated to bringing recipes from films and television to life, called the Disney Diner, provides the ingredients and recipe needed to create 20 to 24 Cauldron Cakes:
—20-24 chocolate cupcakes (from a cake mix or your own recipe)
Bake the cupcakes and let them cool for at least four hours, or overnight. Prepare pudding mix by combining it with milk and setting in the freezer for five to 10 minutes. Stir the set pudding together with the whipped topping, then chill in the freezer for 15 minutes. 
Cut a circle in the center of each cooled cupcake with a sharp knife — this is where you're going to pour the filling. 
Melt the chocolate chips with a tablespoon of vegetable shortening, either on the stove or in the microwave with a microwave-safe bowl. Pour some of the melted chocolate into a candy decorating bottle or a freezer bag and cut off a tiny corner; set aside. Dip the bottom half of each cupcake into the remaining melted chocolate and set on wax paper. 
Take the candy bottle or freezer bag and squeeze three dots of chocolate around the bottom of each cupcake to create the feet of the cauldron. On a separate piece of wax paper, squeeze chocolate in the shape of a cauldron handle, like a horseshoe. Go back over the handle several times so it will be sturdy once it dries. Put these in the freezer for 10 minutes to set. 
Once the cupcake chocolate is set, fill a frosting or freezer bag with the chocolate fudge frosting and squeeze a thick line of frosting around the top of the cupcake to create the cauldron rim. Fill a second bag with the mousse mixture and cut off a corner, then use to fill the center hole in each cupcake. 
Shave some of the white chocolate with a vegetable peeler and use to garnish the mousse filling in each cauldron.
The full recipe and specific instructions are available on the Disney Diner's website. 
(Editor's note: An earlier version of this article cited Disney Diner reporting, but did not include quotations around the cited passages. The story has been updated to fully attribute the Disney Diner language.)