Demonstrators Converge on Janesville, Wisconsin, Ahead of Donald Trump Event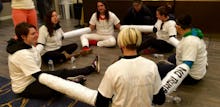 JANESVILLE, Wisconsin — Before she chained herself into a circle of demonstrators in the lobby of the Holiday Inn Express to protest the coming of Donald Trump, Kristen Brock-Petroshius woke up with a sense of dread.
"I was very scared — and I'm usually not someone who's scared," she said.
Brock-Petroshius has a wife and two kids, one just nine months old. Violent clashes at the GOP presidential frontrunner's campaign events have her convinced the worst is coming: "At some point, I fear someone will kill someone at a [Trump] rally."
Read more:
So when she decided to take part in an anti-Trump demonstration in an attempt to derail his Tuesday event at the conference center adjoining the hotel, she wasn't sure if her 4 a.m. pang was a premonition or basic fear or what.
The 34-year-old non-profit worker from Madison said she decided it didn't matter. In the end, "I was going to act anyhow."
Trailing Trump: After a big primary victory in Arizona — and a lopsided defeat to Republican rival Ted Cruz in Utah — Trump is hitting the trail here in Wisconsin ahead of the April 5 vote.
This week, the real estate mogul visits Janesville, Green Bay, Appleton and Wausau, according to his campaign schedule.
Buoyed by voters who love his tough talk on immigration, trade and security, Trump leads the pack as he, Cruz and John Kasich slog through a season of primaries in which Wisconsin is followed by New York on April 19, five states including Pennsylvania on April 26 and a big bang of multi-state voting on June 7.
Trump has yet to lock up the necessary 1,237 delegates, however, and the GOP and its candidates are preparing for the possibility of a contested convention in Cleveland. Protesters are trying to dog him every step of the way — earning Trump's scorn and enraging his deeply loyal supporters in the process.
"We will not be silenced." In Janesville Monday, the anti-Trump demonstrators sat linked by plastic pipe sleeves reinforced with chicken wire, twine and tape. Inside the pipes, their hands were connected through a setup involving metal chains, carabiners and bolts.
They chanted. Sometimes they squirmed into more comfortable positions or opened their mouths to accept sips of bottled water.
Ali Brooks, a 30-year-old Madison social worker who's part of Groundwork, "a group of white people stepping up to take responsibility for racism within our communities," said she and allies with Showing Up for Racial Justice hoped to stymie Trump here and head off the confrontations seen at other campaign stops.
Invoking the March 6 murder of a Hmong couple and a Puerto Rican man in Milwaukee, allegedly by a white neighbor, Brooks added, "We don't want somebody coming here who's going to further inflame and incite racism, violence."
Opening act: Outside, supporters of the chained circle yelled "We love you!" each time the Holiday Inn's glass doors opened.
"I don't like the way Trump portrays Mexicans, Muslims, blacks," said aspiring cosmetologist Monica Valadez, 19, of Delavan, who called the demonstration a kickoff for Tuesday's planned protesting in Janesville, roughly 70 miles southwest of Milwaukee and hometown to House Speaker Paul Ryan.
"He's a troublemaker," she said of Trump. "He wants people to get violent."
Joel Lara, a 23-year-old electrician from Lyons who sported a Bernie Sanders shirt, called Trump a mega-rich attention hound who "wants even more power than he already has."
A banner proclaiming "Billionaires Are The Problem" hung from a fence behind them. There was talk of pulling together bail money for the chained circle of six, and speculation as to how many "Bikers for Trump" would actually show up in Janesville Tuesday afternoon.
The evening stretched out, the early spring chill deepened and the crowd thinned.
Cutting in: After about three hours, the police and sheriff's officers got ready to end the sit-in.
Shooing away onlookers — some of whom repaired to a windowed second-floor hallway to continue watching — an officer told the demonstrators they'd be charged with disorderly conduct, resisting arrest, trespassing and taken in.
Carefully, officers cut away sections of the pipes, methodically pulling off layers of wire and twine to reveal the bolts that held the circle together.
"People are waking up to the danger [Trump is] representing... It's not science fiction anymore," said Andrew Willis Garcés, an organizer, as he monitored the dismantling of the demonstration.
That most protesters at the hotel to condemn the GOP frontrunner as a hate-monger Monday were themselves not minorities sends a message, he argued — even, or maybe especially, in an overwhelmingly white state like Wisconsin.
"I think Donald Trump is mostly trying to appeal to pissed off white people — and there are a lot of white people who are pissed off at Donald Trump," he said.
"We're starting to see what kind of anger is getting unleashed with those white people who are not willing to sit down for hatred taking over this country. That's what this represents."
Trump is scheduled to address supporters in Janesville at 4 p.m. local time Tuesday.