EgyptAir Hijack: Latest News and Updates on Flight MS181 and Hijacker Seif Eldin Mustafa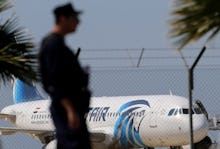 An EgyptAir flight en route from Alexandria to Cairo was hijacked Friday morning local time by a man alleging he was wearing an explosive belt — the flight was redirected to Larnaca, Cyprus. The man has been identified by Cypriot officials as Seif Eldin Mustafa, who was not motivated by terrorism. He surrendered by Friday afternoon and was subsequently arrested, Reuters reports. 
Mustafa's demands were unclear. Some reports suggest he was attempting to reconnect with an estranged wife in Cyprus, while others say he was demanding the release of female prisoners in Egypt. 
Upon landing in Larnaca, many of those onboard were freed by the hijacker; however, he kept approximately seven passengers and crew hostage. Dramatic footage showed one of the hostages escaping by climbing out of the cockpit window.
The affair stirred up further controversy during a press conference with Cypriot President Nicos Anastasiades while the hijack was ongoing. Prompted by rumors a former wife served as motivation for the hijacking, a reporter inquired as to whether Mustafa was influenced by a romantic entanglement.
"Always there is a woman involved," Anastasiades said, laughing. 
Mustafa will be interrogated in an attempt to ascertain what, exactly, drove him to hold the plane and its passengers hostage. There remains much confusion as to his mandate. Egyptian Prime Minister Sherif Ismail said Mustafa's motivations seemed muddled, according to Reuters.
"At some moments he asked to meet with a representative of the European Union and at other points he asked to go to another airport but there was nothing specific," Ismail added. 
This story will be updated as more information becomes available.