Republican Voters: Trump Should Be the Nominee Even If He's Short of a Delegate Majority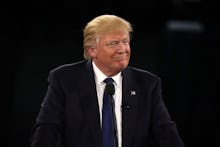 Donald Trump is all but guaranteed to walk into the Republican National Convention in Cleveland with the most delegates of any GOP presidential contender, but it remains an open question whether he'll have won the 1,237 delegates required to secure the nomination on the first ballot and avoid the free-for-all of a second ballot, when delegates would be free to back whomever they wish.
But a majority of Republican voters say that even if Trump is short of a delegate majority, he should emerge as the party's nominee — weakening the hand of GOP elites who might move to deny Trump the nod at a brokered convention.
Read more: Donald Trump Has a Two-Pronged Plan to Win at a Contested GOP Convention
According to the NBC News/SurveyMonkey tracking poll released Tuesday, 57% of GOP voters say that a plurality ought to suffice to nominate Trump, while only 27% think he should only be the nominee if he has an outright delegate majority.
There's a marked difference between supporters and opponents of Trump's candidacy, however.
While 89% of Trump supporters say a delegate plurality is all he needs, 53% of Republicans and Republican-leaners who back other candidates say he should have to hit the magic 1,237.
But Trump is overwhelmingly the choice of GOP voters nationally. In the poll, 48% backed Trump for the party nod, compared to 27% who supported Sen. Ted Cruz of Texas and 18% who favored Gov. John Kasich of Ohio.
The numbers: While Trump remains firmly atop the GOP field nationwide, it's far from inconceivable that he could enter the Cleveland convention short of a delegate majority.
According to the RealClearPolitics delegate tracker, the businessman currently leads his remaining rivals with 739 delegates, followed by Cruz at 465 and Kasich at 143. Trump needs to win more than half of the remaining delegates up for grabs to secure the nod outright.
Should Trump hit 1,237 delegates, his path from here is unlikely to be seamless. Polling shows that he faces stiff challenges in a number of key contests, including the April 5 primary in Wisconsin, where Cruz has pulled ahead in some recent surveys; the April 26 primary in Pennsylvania, where a recent poll showed Trump and Kasich in a statistical tie; and the June 7 primary in California, where Trump's lead over Cruz is in the single digits.
Bracing for a fierce, delegate-by-delegate battle, Trump's campaign is ramping up its efforts to court unbound delegates ahead of the convention.