'Dancing With the Stars': Geraldo Rivera Mimics Donald Trump – Judges Not Impressed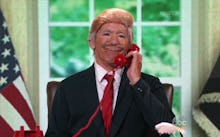 You have to give Geraldo Rivera credit: He was trying to make dancing great again. Unfortunately, the TV host couldn't get the support of the judges on Dancing With the Stars behind his attempt at a Donald Trump impression with a Latin twist. Imitating the GOP frontrunner for the contest's Latin Night, Rivera revealed that he wanted to do a Trump parody because "I'm a Latino — that is one thing Trump is not." 
Setting up in front of an oval office backdrop, Rivera as Trump was receiving a phone call when his wife, Melania Trump (his dancing partner Edyta Sliwinska), interrupts him for an impromptu salsa. 
However, the judges were only impressed with the creativity of his routine, with judge Len Goodman calling it "Trumpery." Thus, it couldn't prevent Rivera from earning low marks all around for his actual dancing. The routine earned a score of 13 out of a possible 30. "Unfortunately, you did not make dance great again," judge Carrie Ann Inaba said.
Rivera was in a similarly critical mood on Twitter following the performance, tweeting out that if he didn't get voted off the show he'd demand a recount. He might not have made dance great again, but at least he was thoroughly entertaining — while poking fun at the real estate mogul for his derogatory comments toward Mexico. 
Read more: Fox News' Geraldo Rivera Goes on Twitter Rant After Shooting, Calls the NRA "Full of Shit"