Bernie Sanders Just Got One of His Most Unlikely Backers Yet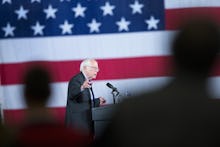 Rep. Collin Peterson, a Democrat from Minnesota, is anti-abortion, anti-same-sex marriage, anti-gun control, in favor of the death penalty and a fiscal conservative.
But he's feeling the Bern. Or at least his district is, and that's enough for him to back Bernie Sanders for president.
"I'm voting my district," Peterson told Forum News Service. "I'm going to vote for Bernie."
Peterson's pledge to vote for Sanders is not for the primaries — his state has already voted — but at the Democratic National Convention in July. As a member of Congress, he's automatically a superdelegate, which means he's free to vote as he wishes to at the convention. But despite his own political inclinations, he's aligning himself with the preference of his constituents, who voted overwhelmingly in favor of Sanders.
Read more: Top Federal Reserve Official Agrees With Bernie Sanders: Break Up the Banks
As the Huffington Post notes, Peterson is one of the most conservative Democrats in Congress and a co-founder of the Blue Dog Coalition, a group of moderate Democrats that skew conservative on fiscal issues like taxation and regulation.
Peterson said he's not yet sure if he'll attend the convention, but that if he thinks his vote makes a difference in the final delegate count, he'll be there.
"He's got something going," Peterson told Forum News Service. "He's tapped into something."
Currently Hillary Clinton has the support of almost all of the superdelegates who have announced whom they plan to vote for, although their pledges are not set in stone and could change, especially in the unlikely event that Sanders takes a decisive lead in the race for state delegates.
Peterson joins a handful of Wall Street bankers as Sanders' unlikeliest backers in this election cycle.
h/t the Huffington Post