Is the #GayMediaSoWhite? Gay Men of Color Exposed Racism in Gay Media on Twitter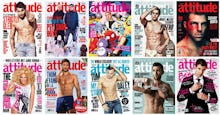 Move over Oscars, there's something even whiter and gayer to talk about. 
Monday evening, gay men on Twitter took the media — especially gay-centric media like Out and The Advocate — to task for what they deemed a lack of inclusion and diversity regarding representation. The conversation began when black queer rapper Mykki Blanco retweeted Sony music songwriter Jesse Saint John. 
After signal-boosting that tweet, Blanco commenced a several-tweet-long rant about what it's like to be a black gay rapper and how she is treated in the gay media. 
After Blanco finished the rant, Out responded with a tweet — that has since been deleted — which ignited a firestorm: "Surely you haven't forgotten that you've been profiled in the Out 100 (we wanted 2 again last but u could not make shoot)." 
After Blanco and others pointed to the problems plaguing gay magazine covers, the conversation expanded into a larger conversation on the lack of representation for gay men of color in the media, on television and on other platforms. While Blanco did not use the hashtag, others who carried on the conversation applied the #GayMenSoWhite label to the discourse. 
Many users began to decry the lack of complex narratives for men of color, who they said often end up being depicted as either criminals or tragic victims in need of help. 
Some Twitter users pointed out that racism in the gay community resembles racism in the mainstream media:
Other users began to espouse the need for queer people of color to not only have accurate representation, but also the need to create spaces for this representation:
And then, of course, after the piping hot tea — came the memes:
#GayMediaSoWhite comes only two months after #TweetLikeAWhiteGay, which also attempted to start an honest conversation about white gay men and racism in the gay community. The takeaways from both conversations are strikingly similar: LGBTQ people of color should not be an afterthought of the entertainment industry and media — especially when said media purports to represent a marginalized community. Further, no community, including ones composed of marginalized people, is devoid of racism or its effects. 
When a few Twitter users complained that it sounded like people of color were "begging" with the hashtag, other users clapped back: 
Like #OscarsSoWhite, people of color are pointing out two different realities. People of color deserve a spot at the table when it comes to creating media narratives. Also, a media landscape that doesn't reflect the gay community's diverse reality is an unjust one.