Brad Pitt and Angelina Jolie Divorce Rumors Swirl Amid Supposed Cara Delevingne Casting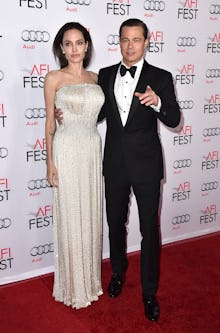 Angelina Jolie and Brad Pitt are heading for destruction, thanks to model and actress Cara Delevingne — or that's at least what unsubstantiated internet rumors would have you believe. It wouldn't be a day that ends with the letter "y" without new divorce rumors swirling around our favorite celebrity couples. 
The rumors are stemming from gossip tabloid Radar Online's supposed findings that Pitt is "desperately courting [Delevingne] for a role in one of his 40 upcoming movie projects for his film company Plan B." 
Read more: What Our Obsession With Celebrity Divorce Says About Us
"After having already accomplished so much at such a young age, 23-year-old Delevingne says she's not doing fashion work anymore and turning to acting instead," Radar Online wrote Sunday. The article goes on to allege Pitt will stop at nothing to sign Delevingne into a contract with his company, suggesting he's supported her in seeing the best acting teachers in the business and fully believes she's capable of winning an Oscar. 
The article was quickly picked up by a plethora of publications — not only including gossip blogs, either. International Business Times went with the idea Jolie and Pitt are nearing the end, noting "reports also claimed that Jolie fired one of their children's nannies after she spotted Pitt developing a close friendship with her. However, Pitt is not the only one who was surrounded with rumors of flirting, as a report claimed earlier this month that Jolie was 'flirting nonstop' with her husband's young look-alike cameraman."
Gossip Cop decided to lay down the law after the rumors began picking up steam: "Angelina Jolie is NOT "headed for a complete physical and emotional breakdown," despite a report that wrongly claims her health is failing amid a divorce from Brad Pitt," the publication noted. "Building a story around recent pictures of Jolie is just the tabloid's latest angle, an excuse to tell more tall tales about her health and her marriage. The star and her fans deserve better."
As Gossip Cop noted, rumors of an imminent divorce between the two have been ongoing for years and, frankly, we're all a little tired of it.