Investigation at Capitol Complex After Suspicious Package Spotted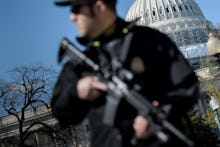 Capitol Hill in Washington, D.C. was on lockdown for the second consecutive day after a suspicious package was discovered in the vicinity early Friday morning. A witness told Reuters a bomb squad had arrived on the scene.
But by around 9:30 a.m. Eastern, the Senate Sergeant at Arms announced the area had been reopened and was "all clear."
On Monday, Capitol Hill was also briefly on lockdown after a shooter, Larry Dawson, opened fire. Dawson was injured and taken into custody. One female bystander sustained minor injuries. 
At 7:48 a.m. on Tuesday, prior to the discovery of the package, the Hill's official Twitter account indicated operations would resume as normal after Monday's shooting. 
However, just over an hour later, that same account retweeted a post from the Senate Sergeant at Arms Office, announcing that part of the area had once again been closed off.
Shortly after, at 9:36 a.m., the Senate Sergeant at Arms Office announced on Twitter the situation had been resolved.
This story will be updated as more information becomes available.