Who's Going to Die in 'The Walking Dead' Season 6 Finale? Negan Has Plenty of Options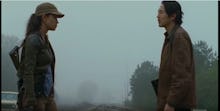 (Editor's note: Spoilers for the comic books and the TV series ahead.) For as much as The Walking Dead has kept its major characters out of harm's way in recent seasons, that's almost guaranteed to change in this Sunday's season six finale. The teaser for the finale has all but assured that Negan (who will be played by Jeffrey Dean Morgan) will make his first on-screen appearance, following several run-ins with his lackeys for Rick (Andrew Lincoln) and the rest of the group. 
Read more: Did Daryl Die on 'The Walking Dead'? The Cliffhanger Has Some Fans Worried — And Pissed
As the teaser suggests, the "price will be paid" for all the times Rick and Co. have killed members of Negan's group, The Saviors. All signs point to this "price" being the iconic and gruesome death Negan deals to Glenn (Steven Yuen) in the comic books, which the show is based off of — but that's far from a guarantee, given the AMC series' consistent history of mixing things up. 
As it currently stands, there are several characters from the group in harm's way who could die at the hands of Negan next episode — each of which bringing something else to the table, and narrative structure, if they were to die. Depending on who the character is, the death (or deaths) could feel like a cop out, or be absolutely heartbreaking for fans. Here's who could be on the chopping block — or, more appropriately, up to bat. 
Glenn: He is at the top of the list, at the very least because he's at the wrong end of the infamous scene in the source material. However, the show has frustratingly dangled Glenn as a character poised to die on several occasions — most notably earlier this season, when it appeared as though he had been eaten alive (only to later be revealed as a clever editing trick). 
That said, it would still be a devastating death for fans. In many ways, Glenn acts as the moral compass of the show and the group. Only recently did he kill his first human being as part of the raid on one of Negan's compounds, and it shook him heavily (subsequently, this revealed a subtle tease toward his potential death, as one room had a chilling collage of photos with people's faces bashed in, presumably by Negan). 
Though the series doesn't always pluck straight from the source material, this is one of the comic's most famous scenes. Perhaps the show won't change what clearly isn't broken.  
Daryl: A widely discussed theory is that Daryl (Norman Reedus) will replace Glenn as Negan's intended victim, with evidence ranging from the character personally killing several of Negan's men to some artistic hints within the show — such as Daryl crashing next to a zombified biker earlier in the season (Negan himself is a biker, and sports a similar leather jacket to boot). 
Beyond the proposed evidence, the character has been in a narrative rut since Beth (Emily Kinney)'s death in season five. "On a larger level, I'm starting to wonder if Daryl isn't running out of time," Todd VanDerWerff wrote for Vox. "Season six has seen The Walking Dead cast about for something for him to do, and the more it seems at a loss, the more I think it might just send him away forever." 
Moreover, it would be the most heartbreaking death on the show, as Daryl has the most devoted fanbase of any character. Part of the reason Glenn's death in the comics is so chilling is that he was regarded as a fan favorite. He still is, but Daryl (who isn't based off of a comic book character) certainly has that place in the series. 
Michonne: Michonne (Danai Gurira) is being held captive along with Rosita (Christian Serratos) by members of The Saviors following the end of Sunday's episode, so there's an inherent risk that she could die. If the show really wants to make the Negan introduction vicious and heartbreaking, killing off Rick's new love interest would be a horrible, but effective, way of doing so. 
Really, the biggest issue in this twist is that Gurira herself may have accidentally spoiled the fate of her character. In an interview with Vulture, the actress points out that Michonne and Rick are "still together," implying their relationship will be fine at season's end. Even so, she remains a candidate, at the very least because she's still being held captive. 
Rosita: Also currently held captive by The Saviors, Rosita has seen more screen time in recent episodes, in part because Abraham (Michael Cudlitz) left her for Sasha (Sonequa Martin-Green), leaving her angry and heartbroken. Now, it seems Rosita's character arc needs a sharp turn — something more than just mulling over a post-apocalyptic breakup.  
However, The Walking Dead has repeatedly shown non-major characters typically die after being featured prominently. If Rosita were to die, however, it would feel like a cop out for the show's hype surrounding the season finale and Negan. It's unlikely they'll go this route; Rosita certainly isn't guaranteed to survive, but if she does die, it likely won't be at the end of Negan's bat. 
Abraham: Similar to Rosita, Abraham has received a lot of screen time in the latter half of season six for a somewhat well-developed character. His fate is less assured now, given that his death from the comics was doled out to Denise (Merritt Weaver). Thus, some theories suggest he'd be a good candidate for Negan's bat, partly because the series inherently wants to appease its fanbase. 
"The Walking Dead does want to please its audience," Paul Tassi wrote for Forbes. "We talk all the time about how shows like The Walking Dead and Game of Thrones are willing to kill anyone and 'no one is safe,' but that really isn't true. There is a limit. If George RR Martin kills Daenerys or Tyrion, for example, before the very end of the series, I'll eat the seventh book. It's the same reason [GoT spoilers] Jon Snow can't actually be dead, but it's okay for Catelyn and Robb Stark to die. There are major character deaths, and there are 'major' character deaths." 
Regardless of who dies, fans should be worried for Sunday's finale. There's a genuine concern a beloved character — namely Daryl or Glenn — could die. Conversely, fans should raise an issue if the show backtracks on its promise for a hectic season finale by killing off characters the audience is less emotionally invested with. Thankfully, the latter is highly unlikely, as several actors have been on the record about how gruesome Negan's introduction will be. Now, all we can do is wait. 
"We're gunning towards one of the best, most appalling and brilliant season finales we've ever attempted," Lincoln said in an interview with Variety. "It made me physically sick when I read it, and if we've done it right, you will [be] too. You're gonna be made nauseous."