Two New Drake Songs Leaked Online and Fans Went Crazy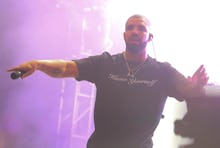 Two songs apparently from OVO rapper Drake's long-anticipated album Views From the 6 leaked online Tuesday, and fans scrambled to find the tracks. One of the leaked songs features dancehall artist Popcaan, and is reportedly titled "Controlla." The other song is titled "These Days."
Both songs were quickly yanked from SoundCloud, YouTube and streaming services, but the tracks can still be heard on AllHipHop (however, it's unclear whether they'll be pulled as well). According to the AllHipHop post, the artist's fourth studio album will drop on April 16.
According to the Independent, the 29-year-old rapper is allegedly working on a remix of "Wolves" with Kanye West, while also dealing with an embittered producer who claims he hasn't been paid properly for his services. 
Read more: If Drake's New Album 'Views From the 6' Is Anything Like the Last, It'll Be a Classic
Fans of the rapper were receptive to the leaked tracks. 
While there is still no confirmation from Drake's team announcing an official release date for the upcoming album, one thing is for certain: Views From the 6 has the potential to be the rapper's best work yet.