Corey Lewandowski, Trump's Campaign Manager, Charged with Alleged Assault of Reporter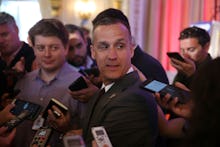 Corey Lewandowski, the sharp-elbowed political operative and campaign manager for Republican presidential frontrunner Donald Trump, has been charged for the alleged assault of conservative reporter Michelle Fields, Florida police announced Tuesday.
The police department of Jupiter, Florida, said "probable cause exists to charge Corey Lewandowski" with misdemeanor battery in the incident.
The charge stems from an incident after Trump's primary night press conference March 8 in Jupiter. As Fields, then a reporter for Breitbart, approached Trump to question him, Lewandowski forcefully grabbed her arm, leaving her bruised and shaken.
Police Tuesday released surveillance of the incident to the public:
In a statement, Trump's campaign stood by Lewandowski, pronouncing him "absolutely innocent of this charge."
"He will enter a plea of not guilty and looks forward to his day in court. He is completely confident that he will be exonerated," the statement said.
The Trump campaign disputes that Lewandowski was actually arrested, saying that he'd merely been issued a May 4 court date and a notice to appear.
In his only public comments on the matter to date, the candidate himself suggested that Fields "made the story up."
One of Lewandowski's attorneys in the case, Kendall Coffey, resigned as a federal prosecutor in 1996 amid allegations that he'd bitten a stripper.