'William and Kate: The Journey': Premiere Date for Documentary Series About Royal Couple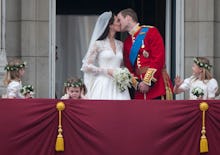 Remember that time '90s dreamboat Prince William and the significantly better-coifed Kate Middleton got married? Of course you do. There was much fanfare. There were many hats. There was a ridiculously long telecast that aired internationally. But ICYMI, the cable channel Reelz is airing the couple's entire relationship history as a four-part documentary. The first two installments of William and Kate: The Journey premiere back-to-back on April 18 at 10 p.m. Eastern. 
Read more: Queen Elizabeth II Is the Ultimate Queen of IDGAF Style
"William and Kate: The Journey is an inside look at the most talked about couples of the millennium: Prince William, future King of the United Kingdom, and Kate Middleton, the Duchess of Cambridge from Berkshire," according to a press release. 
"From the grounds of St. Andrews University in Scotland, to the glamorous Swiss slopes where they shared their first public kiss, to the day that captured the nation's heart at Westminster Abbey and through to the births of Prince George and Princess Charlotte, William and Kate: The Journey relives these momentous milestones and will provide unique insight into one of the greatest love stories of the century," the release continues.
Viewers will be invited along for the royal couple's entire relationship ride, of which the wedding is just one highlight. According to the press release, the first evening spent with the Duke and Duchess will detail their "rollercoaster ride" of a courtship and their engagement. The second half of the night will focus on the couple's big day when "billions of people all over the world" tuned in to watch Will and Kate trade vows on April 28, 2011, in a celebration that cost an estimated $34 million. Reelz promises "exclusive footage" and "interviews with royal insiders." It's all very exciting. 
The following Monday, April 25, viewers will welcome Prince George and Princess Charlotte into the world (again). Get your fancy hats out, world — it's time to toast this couple with all the pomp and circumstance British royals demand/deserve.