New York City College Cooper Union Will Begin to Remove Gender Signs From Its Restrooms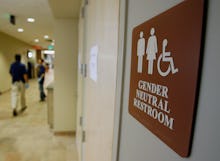 After a battle with students on the campus of the Cooper Union for the Advancement of Science and Art, school administrators decided to remove gender designations from the bathrooms on its campus this month, according to the Guardian. 
"From a practical standpoint, very little will actually change in our day-to-day use of restrooms," Bill Mea, president of the college, wrote in an email announcement, the Guardian reports. "But it reflects where I believe Cooper Union needs to stand."
"I cannot change the outside world and how it treats transgender and gender non-conforming people," he added. "But I can change the Cooper Union environment to help everyone feel safe when they are inside our buildings."
Read more: The ACLU Just Slapped North Carolina Officials With a Lawsuit Over Bathroom Law
Students who pressured the Cooper Union administration to make the change believe it is a step in the right direction. "A public facility shouldn't have to ask if you're a man or a woman," Rio Sofia, a student at the college who fought for the school to change its policy, said. "It should just ask, do you need to pee or poop?"
Across the nation, the fight against discriminating laws that target individuals who identify as transgender is happening, most notably in North Carolina.