Kehlani and Kyrie Irving's Sad Story Exposes the Dark Side of Social Media Breakups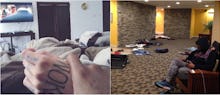 On Monday, 20-year-old Atlantic Records singer Kehlani found herself at the center of a social media love triangle with her boyfriend, NBA player Kyrie Irving, and Canadian rapper PartyNextDoor, who posted suggestive Instagram photos of the pair and set off a slew of cheating rumors. The situation then took a tragic turn when Kehlani ended up in the hospital after a reported suicide attempt, which she Instagrammed about then subsequently deleted.
The following day, infamous music video vixen Karrine Steffans publicly accused her husband, Scandal actor Columbus Short, of cheating, tagging both him and two women he allegedly slept with while the two were married. Short answered with a series of tweets calling the situation "unfortunate."
Of course, celebrities aren't the only ones guilty of airing their dirty laundry on social media. Everyone has that Facebook friend whose statuses are less, "Thanks for the birthday wishes!" and more, "Hi, I hate my partner and we're fighting again!" which often results in followers feeling uncomfortable and not knowing whether or not to intervene. 
When that cheating leaks into the social media world, it has a tendency to go viral. For instance, one woman's investigative skills led to her finding a series of Twitter DMs between her boyfriend and a woman he was apparently having an affair with. So she printed them out, gift-wrapped them and presented them to him on Christmas morning — and, naturally, tweeted about the whole thing afterwards.
Then there was this guy, who took social media cheating drama to an embarrassing extreme when he uploaded a photograph of his girlfriend to Facebook after he allegedly walked in on her in bed with another man, naked. While the photo was later taken down, a commenter on the original thread said it all: "This is a Facebook earthquake bro. Social media is like cancer. This is a 21st century revenge."
The fact that this is a trend among both celebrities and commoners begs the question: Why would anyone choose to broadcast their ostensibly private relationship issues on social media? The results are almost invariably devastating, and in cases like Kehlani's, can even be tragic. 
While we don't know what PND's intentions were in posting the photo, one can hardly guess what would motivate him to photograph himself holding hands with a woman who had a boyfriend. And while Karrine Steffans' desire to retaliate against her cheating spouse may have indeed been overwhelming, it's difficult to think of how involving the general public could help matters.
"Putting your own life on blast is not a good move," Asha Boston wrote in a post for Madame Noire back in 2014, when reality TV show stars Tiny and T.I. were publicly bickering and accusing each other of infidelity on Instagram. "Not only is it detrimental to your relationship (if you really care to make things work), but it's tacky as all hell. We all slip with the subliminal quotes from time to time, but some things aren't meant to be shared with the world."
So whether you're famous or not famous (or somewhere in between), the next time you feel the urge to air out your relationship drama via social media, take a deep breath beforehand. Relationships are complicated, and Instagram and Twitter make them even more so. Most couples' issues are difficult enough without hundreds of people (or in some cases, hundreds of thousands of people) bearing witness to them.