Teens Post Viral Anti-Donald Trump Rap Video, Will Probably Be Barred From His Next Rally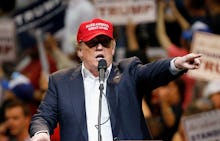 There's a video going around the internet showing a group of teenagers from Baltimore rapping about the horrible things they plan to do to Donald Trump if he shows up in their city.
It's all done in the name of jokes, reportedly — "I wouldn't kill an innocent fly," 19-year-old participant Abdel Ibrahim told the Baltimore Sun — but be warned, the lyrics are violent, albeit in your classic battle-rap kind of way.
As of Tuesday, the video had amassed more than 200,000 views on the site World Star Hip Hop, and more than 20,000 on Ibrahim's personal YouTube channel. "We didn't mean no harm by it," the self-described humorist and nonrapper told the Sun. "We don't got no damn chopper! My religion says don't even kill."
Ibrahim is a Muslim, by the way — which partly explains his feelings toward the openly Islamophobic Trump — and the word "chopper," which appears liberally throughout the song, is slang for a selective-fire rifle.
The track itself — titled "CIT4DT," or "Chopper in the Trunk for Donald Trump" — is also peppered with colorful language, referring to Trump as a "b*tch," a "f*ggot" and other derogatory terms.
It also cracks jokes on Trump's physical appearance, including his notoriously orange-tinted skin tone and wayward, windswept hair.
"You said you'd date your own daughter/ You a sicko!" the song jabs at one point, referring to the candidate's bizarre comments about his own daughter, Ivanka.
But at its core, the video aims to send the same message as the recent anti-Trump protests that shut down his rally in Chicago: Neither you, nor your hateful rhetoric, are welcome in our city.
"I just want a good person [as president]," Ibrahim told the Sun.
Here's the squad's full video, via YouTube: