These Smart Bracelets Are the Fashion-Forward Tech Wearables You'll Actually Want to Wear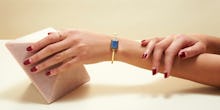 Smart jewelry company Ringly's new line of smart bracelets look like your average fashionable bangle — but the bracelets' focal gemstone connects to your phone using bluetooth capability. 
"It is our belief that your jewelry should not only be beautiful, but also smart," Ringly founder- CEO Christina Mercando d'Avignon said in a statement, Mashable reported. "We're thrilled to announce our new collection of bracelets that help women stay on top of their notifications discreetly, without sacrificing their personal style."
Read more: British Dad Curses Out of Excitement Through His Entire First Experience With VR Headset
Ringly introduced its smart jewelry line Tuesday. Dubbed the "Aries" collection, the sleek bracelets are an addition to Ringly's smart gemstone rings introduced last fall. The bracelets are available to preorder for $195 and will be sold for $279 when the bracelets ship and preorder ends in the summer, according to Mashable.
The bracelet is compatible with more than 100 apps on iOS and Android, according to Ringly's site. It's also built to track your daily movement and calorie burn and should last anywhere from a day to two days with a four-hour charge. 
The bangle is gold with a gemstone that comes in four colors: "Labradorite," "rainbow moonstone," "tourmalated quartz" and "lapis."
Ringly's gemstone rings were praised by both fashion and tech sites. "Many of the current options out there really aren't that good looking... Luckily, Ringly doesn't fall into that category," Refinery29 reported about the smart rings in 2015. "When I took off Ringly for the last time, I realized just how strange it was to use my phone without it," Gizmodo reported in July.