Bernie Sanders Supporters Are Going Full Steam Ahead With #BernOrBust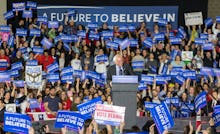 By all measurements, it would seem Hillary Clinton is well on her way to clinching the Democratic presidential nomination, but recent polls show Democrats aren't ready for Bernie Sanders to give up the fight.
Sanders loyalists are loudly echoing that sentiment on Twitter, with a more fervent take on "Feel the Bern." Indeed, Berners are sending the message that they won't be hopping aboard the Clinton bandwagon — even if she gets the Democratic bid. For those supporters it's #BernOrBust.
Read more: Sanders Supporters Called Out Media Whitewashing With #BernieMadeMeWhite
Those rallying behind #BernOrBust say there's little Clinton could do to change their minds, citing her corporate ties and "establishment" politics.
Some used the hashtag to point out that Sad supporters' unflagging loyalty to the candidate might not go exactly as planned:
But, in the event of a Clinton win, many Berners said they have a plan B ready to launch: