Jennifer Lopez Isn't a Fan of Sexting, Says It's "Dangerous" and a "J No"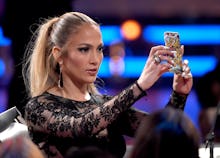 Celebrity nudes are a tricky business. Either they send the peanut gallery scrambling into a star's corner, or they're trotted out as evidence of everything that's wrong with the celeb sexter as a human — which is why Jennifer Lopez won't play that game. In a rousing game of "J Lo" or "J No" (in which "J. Lo" seems to mean "yes") on Tuesday's Live With Kelly and Michael, Jenny from the Block was asked for her feels about sexting. As E! reported, J Lo wasn't into it.
Read more: Did Jennifer Lopez Shade Mariah Carey? J Lo Responds After Fake Brussels Tweet Circulates
"Dangerous," she said. "I'm going to have to say J No."
What she likes to do instead, according to E!, is to take pictures of her 9-year-old twins, Max and Emme, while they sleep. And because J Lo is very busy — she currently stars in Shades of Blue, judges American Idol and will voice Shira in the upcoming Ice Age: Collision Course, to name just a few of her projects — her kids don't necessarily believe she checks in on them at night. So now, she'll crawl into bed with them and snap a selfie for photographic evidence — must be the influence of that cop show.
J Lo is right to be wary. Celebrity nudes are always getting out, placing their subjects firmly under Twitter's withering gaze until news of another famous person's latest gaffe breaks. But while she may say "J No" to sexting, she gave an emphatic "J Lo" to carbs and surprise parties. Because she's a cool mom.