New Snapchat Update Now Allows You to Send Stickers and Have Voice or Video Calls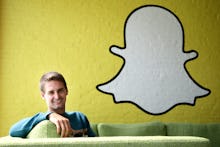 On Tuesday, Snapchat added a new feature called Chat 2.0, which will upgrade the way users can communicate one-on-one. The new feature allows people to send each other video or audio notes and stickers, or to place voice or video calls in real time, according to Mashable. 
"What we love most about the new Chat is how easily you can transition between all these ways of communicating — just like you do in person," the company said in the press release. 
To initiate a call, just open up the one-on-one chat with the desired user and press the icon. Even if they're not currently looking at the chat, they'll get a notification that'll let them ignore, accept or answer without using the camera. People can still send messages while on a call. 
If the two of you are too busy, you can just send a brief message of audio or video that will eventually disappear from the chat like other messages do. 
You can also open up your camera roll from the app to send already taken photos or videos, the Verge reported. 
This is the first time Snapchat has enabled stickers, which are found under the smiley face icon. 
Snapchat first rolled out video chats in 2014, but there were flaws. Both users had to be present and the connection lasted as long as the user's' finger was on the screen, according to the Verge.
Read more: Why Snapchat Might Not Be Awesome For Your Relationship