Donald Trump Defends Campaign Manager Corey Lewandowski Following Battery Charge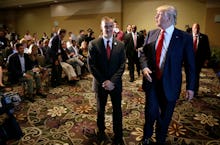 On Tuesday, police in Jupiter, Florida, announced that Corey Lewandowski, Donald Trump's campaign manager, had been charged with misdemeanor battery for his alleged assault of a female reporter on March 8.
Trump took to Twitter to respond to the charges on Tuesday afternoon:
Trump spokeswoman Katrina Pierson said on Tuesday on CNN that Lewandowski would "absolutely" stay on as Trump's campaign manager, calling him "integral" to the campaign's operation.
Trump's continued defense of his campaign manager comes despite overwhelming evidence that Lewandowski did in fact grab the arm of former Breitbart reporter Michelle Fields. Fields herself took to Twitter to reply to Trump's suggestion that she was lying:
Police released new surveillance video of the incident, which shows Lewandowski confronting Fields following a press conference in March. The video was obtained by police shortly after the incident, according to the arrest report, despite the Trump campaign's earlier assertions that such a video did not exist.
You can see the confrontation in the video released by Jupiter police on Tuesday:
Who are you gonna believe, you or your lyin' eyes?
Correction: March 30, 2016