'Dead 7' Theme Song Features Boy Bands N Sync, 98 Degrees and More and Is Total Nostalgia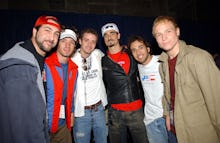 It turns out the early 2000s weren't the end of an era for boy bands. N Sync, Backstreet Boys, O-Town and 98 Degrees are all joining forces to win back the hearts of their once-swooning audiences worldwide — not to mention slaying zombies. The boy bands teamed up for the theme song to a new horror film written by Nick Carter called Dead 7, starring a handful of the boy band members, including Jacob Underwood, Joey Fatone and Trevor Penick, Entertainment Online reported Tuesday. "In the End," the theme song to the forthcoming SyFy film, was released Monday on YouTube.
The song is nostalgic bliss to our ears, and encapsulates just about anything one can imagine from a zombie apocalypse theme song composed by the greatest boy bands of all time — which is surely something music listeners imagine the sound of all the time.
"I wanted my friends in the film with me," Carter told Entertainment Online. "What is more fun than riding horses and being zombies shooting things? Even as a kid I loved horror films, this was always something I wanted to do."
Now, Carter and his friends (all of whom are apparently boy band retirees) will go from touring the world for preteen girls, to crushing the walking dead and saving humanity. Dead 7 premieres on SyFy on Friday at 8 p.m. Eastern.