This Underwater Airbnb Let's You Sleep Among 35 Sharks, Courtesy of the Aquarium De Paris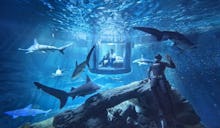 You've probably had an unwelcome guest in your home before, whether it was a rodent, cockroach or a really annoying friend. However, chances are you've never had to deal with sharks — let alone 35 of them. However, now you can for one night. Airbnb is offering three one-night stays at the Aquarium de Paris, with the circular room offering a stunning 360-degree view of sharks.  
The room is free and is part of a competition the aquarium is hosting. Any interested candidates simply have to write a 50-500 character essay by 11:59 p.m. CET on April 3, detailing who they are and why they should be chosen to hang out with the sharks. The guests will be greeted by shark enthusiast and freediver Fred Buyle, who will also provide some entertainment in the form of interacting with the sharks. Furthermore, the guests (up to two per night) must be over 18 and in good physical shape, as the room is accessed by going up and down a ladder. 
Aside from that, the house rules should be pretty obvious on account of the sharp-toothed guests: no selfies at night (sharks are sensitive to light), "keep your heads and feet in the bedroom at all times" and a recommendation to not watch Jaws before the stay — all are probably important to adhere by. 
The winners of the competition will be announced on April 9, but in the meantime, check out photos from the space below.
Read more: Rent Out an Airbnb Sex Dungeon to Spice Up Your Boring Ol' Sex Life
h/t Business Insider