Millennial Republicans Support Immigrants. Someone Please Tell the 2016 GOP Candidates.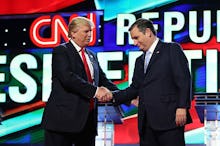 Donald Trump may want to build a wall, but it turns out millennial Republicans want to a build a bridge.
A survey of 42,000 people from the Public Religion Research Institute found that, despite hours of GOP presidential debates that may indicate the contrary, Republicans — specifically, millennial Republicans — have an overall positive view of immigrants and what they bring to the United States.
Of the respondents, 1,083 people identified as Republicans between the ages of 18 and 29, 51% of those Republicans said that "the increasing number of newcomers to the country strengthen American culture and way of life," according to a press release.
We did not reach out to Trump for comment, but his response may have been something like this:
Those young Republicans may embrace the 41.3 million immigrants living in the United States — and, you know, all the other hundreds of millions who are descended from immigrants — but 36% of young Republicans still see immigrants as a threat. In other age groups, only 22% of Republicans over 65 have a favorable view of immigrants, while 61% say they are a threat.
In comparison, 52% of independents and 63% of Democrats agreed that immigrants strengthen the country.
The study has a few more surprising stats, as well. Fifty-five percent of young white evangelical protestants believe immigrants strengthen American society, while 33% see them as a threat. In fact, most religious denominations support immigrants and every religious denomination surveyed favors a path to citizenship for immigrants.
A majority of young respondents in every single state except South Dakota believed that immigrants deserve a path to becoming a U.S. citizens.
The fiery, xenophobic rhetoric coming out of Republican debates is in stark contrast to the views of millennials in this survey, Republican or not. Trump's proposals to build a wall between the United States and Mexico or to ban all Muslims from entering the country seem not only unrealistic but downright out of touch in light of these numbers. While Trump's views are bombastic, Texas Sen. Ted Cruz's views are no more pleasant at their core. Cruz, who was born in Canada to Cuban parents, has said he has never supported immigration and never will.
The more out of touch these candidates appear to the growing millennial electorate, the more they can kiss their dreams of living in the White House goodbye.