Chicago News Reporter Marcella Raymond Has a Wise Response to a Body-Shaming Fan Letter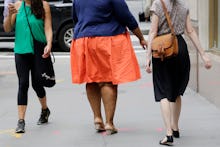 Chicago news reporter Marcella Raymond received an anonymous letter from a viewer, telling her that she has "gained too much weight," and being overweight may have a detrimental effect on her career. 
"Please allow me to point out (with great respect) that you have gained too much weight," the anonymous letter read. "Being heavier than you probably want to be does present a message to the viewer: this person is not able to discipline herself in a visual medium. It interferes with your real message when reporting."
Read more: Kesha Claps Back at Body Shamers on Instagram, Says She's Not a "Slave to Perfection"
Raymond posted the letter to Facebook, and decided to respond to the author of the letter, and any others who feel the same on a segment on WGN. "I'm 50 years old, and I'm not going to look like I did when I was 23," the broadcaster said during the segment, according to People. "And I can't compete with those girls. And it's not feasible. I can't do it. I would spend my entire life doing that and I have other, better, more important things to do."
The 50-year-old news broadcaster also wanted to make clear with her viewers just what specifically she is paid to do. "Our main job is not to wear a swimsuit or to look like a beauty queen. Our main job is to deliver the news in the best way we can," Raymond told WGN Radio, People reported. "It's not about being the prettiest girl on TV."