Movies Coming Out in April 2016, From 'The Jungle Book' to 'Keanu'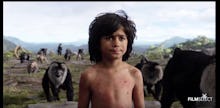 March movies certainly brought a lot of hype — namely the highly anticipated Batman v Superman: Dawn of Justice — but the final results were mixed. The likes of Zootopia and 10 Cloverfield Lane were well received — the latter of which is a game-changer for film franchises. Conversely, The Divergent Series: Allegiant and Batman v Superman were major critical flops (sorry, Ben Affleck).  
April is poised to give moviegoers a versatile lineup of films to choose from, with two animal-centric films and a first-person shooter movie that looks ripped from a video game. Here are the biggest movies coming to theaters this April — many of which could be worth the price of admission.
Read more: Ben Affleck Reacts to 'Batman v Superman' Reviews In This Hilarious Meme
Kill Your Friends (April 1): The music industry of the '70s has been put under the microscope in HBO's Vinyl, but Kill Your Friends is a chilling look at the late-90s Britpop craze. The lead, Stelfox (Nicholas Hoult), is an artists and repertoire man, hoping to stay alive in the highly competitive industry. When he finds out his record label will be firing someone in the following year, he'll do whatever it takes to make sure it isn't him — even, as the title suggests, murder.
"The film's redeeming factor is its giddy sense of excess," Geoffrey Macnab wrote for the Independent. "Like the protagonist of The Wolf of Wall Street, Stelfox pushes everything to absolute extremes."
Hardcore Henry (April 8): Labeling itself as one of a kind, which is hard to debate, Hardcore Henry is a chaotic first-person shooter film that's "basically a mix of Jason Bourne, Captain America and Call of Duty," as Jessica Conditt put it for Engadget. For any fan of the action genre, Hardcore Henry may offer a perfectly straightforward action flick with a well-executed gimmick. 
"A making-of might be just as exciting as watching the film itself, because helmer [Ilya Naishuller] and his myriad collaborators have put together something that seems at once seamless and DIY, large-scale and claustrophobic, its actual budgetary cost as hard to guess as its tech/design contribs are breathlessly stimulating," Dennis Harvey wrote for Variety.
The Boss (April 8): Any comedy starring Melissa McCarthy is automatically worthy of consideration, and The Boss gives her a new co-star to work with in Kristen Bell. McCarthy's character is at the top of her game — the richest woman in America — until she's arrested for insider trading and loses all of her money. In an attempt to make a comeback, she plans to rebrand herself and start a new empire (even if it means selling brownies).
The Jungle Book (April 15): A modern reimagining of the classic Disney film, The Jungle Book will feature CGI animals to accompany the lead, orphan boy Mowgli (Neel Sethi). The film will likely incorporate a similar narrative to the original, and features a plethora of talented actors in voiceover roles for the animals, including Idris Elba, Scarlett Johansson, Bill Murray and Christopher Walken.
Everybody Wants Some!! (April 15): A coming-of-age story in the vein of '70s-themed Dazed and Confused (and with the same director, Richard Linklater), Everybody Wants Some!! instead takes place in the '80s. The film follows a group of college baseball players and traces their paths through the freedoms and responsibilities associated with, well, college. Thus far, critics have hailed the film.
"The experience of watching this film is one of reflective exuberance," Bilge Ebiri wrote for the Village Voice. "It's a movie about people who arrive sure of themselves and depart in the quiet confidence that all they know is that they know nothing."
Barbershop: The Next Cut (April 15): The group from Calvin's Barbershop is returning with some new faces, including Nicki Minaj and Common. Barbershop: The Next Cut will focus on the group's adjustment to changes in their town, and what they can do to make it a better place. Also, as expected, they'll throw some jabs at one another along the way.
The Huntsman: Winter's War (April 22): The follow-up to Snow White and the Huntsman no longer features Kristen Stewart, instead acting as a prequel and telling the story of two rival sisters, Ravenna (Charlize Theron) and Freya (Emily Blunt). In The Huntsman: Winter's War, the titular Huntsman (Chris Hemsworth) will have to stop the sisters from waging a terrible war. Expect ice. A lot of ice. 
Keanu (April 29): While we're still reeling over the end of Key and Peele on Comedy Central, the duo will assuage fans with a feature-length film that essentially looks like a complex, extended sketch from the show. Keanu focuses on a kitten of the same name that's stolen from the comedic duo, who must do whatever it takes to get him back — even if it means posing as drug dealers in a street gang. Plus, the kitten is undeniably adorable. 
"Whenever Key and Peele misses a beat, the titular Keanu is always there bouncing into frame, dodging bullets and winning the hearts of everyone involved in the caper," Joanna Robinson wrote for Vanity Fair. "If that cat can even melt a hardened gangster, what chance do the rest of us have to resist his charms?"