People Are Mad Adele Is Headlining the 2016 Glastonbury Festival — Here's Why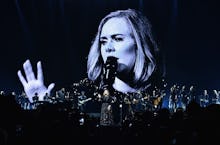 People are now criticizing Adele over her Saturday headlining spot on the U.K.'s massive Glastonbury Festival's Pyramid Stage lineup. The Hello singer verified the news at her London concert on March 25, according to NME, and the total lineup came out Tuesday morning; her fellow headliners will be Coldplay and Muse. 
Despite Adele's soulful ballads and powerful vocals, supposed festival goers were quick to call her a "boring" choice, alluding that she was also too mainstream. Some compared the future performance to a "wake," while others made "yawn" comments. Others said the festival organizers were "playing it safe."
Read more: Adele to People (Jamie Oliver) Who Pressure Mothers to Breastfeed: "Go Fuck Yourselves"
Glastonbury Co-Organizer Emily Eavis tweeted on March 18 that it was "a great honor" to announce Adele was going to take the headlining spot. "I wanted to do it last year but my record wasn't ready," Adele said at her London concert, according to NME. "And to the people who say I am too boring to headline, you're more fucking boring for moaning about me headlining."
No one can deny that Adele took over 2015 with her record-shattering single "Hello" and album 25. Plus tickets for her United States 25 tour sold out within just minutes, the Atlantic reported. 
Glastonbury takes place on June 22 to June 26 — other performers include James Blake; LCD Soundsystem; Earth, Wind & Fire; and more