Bernie Sanders Just Used Clinton's Own Words Against Her in a Bid for More Debates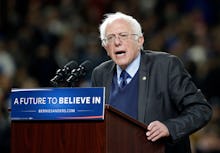 Hillary Clinton's chief campaign strategist Joel Benenson told CNN on Monday that Clinton would decline further debates with primary rival Bernie Sanders unless Sanders changed his "tone."
"This is a man who said he'd never run a negative ad ever; he's now running them... Let's see the tone of the campaign he wants to run before we get to any other questions," Benenson told CNN. "Let's see if he goes back to the kind of tone he said he was going to set early on. If he does that, then we'll talk about debates."
Sanders remained tonally consistent Tuesday in a brief and biting comeback that let Clinton do all the talking.
In a 7-second clip dug up by Sanders camp, Clinton is seen undercutting Bernenson's argument with a comment she made during her failed 2008 presidential run.
"I just believe that this is the most important job in the world, it's the toughest job in the world, you should be willing to campaign for every vote," Clinton told the Sioux Falls Argus Leader, in a moment caught on camera.
"You should be willing to debate anytime, anywhere."
Well, that settles at least one debate.
Read more: Bernie Sanders Was Slammed by Twitter for a Mental Health Comment