Justin Bieber Has "Sorry"-Ass Cardboard Cutout Stand in For Him at $2000 Meet & Greets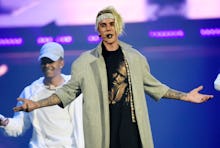 Justin Bieber is really making it hard for fans to belieb in him right now. As NME reported, those who paid the non-refundable $2,000 for VIP tickets to his Purpose tour received a second disappointment in Las Vegas on Friday, when they arrived backstage to find a cardboard cutout of the "Sorry" singer, rather than the real thing.
Read more: Bieber Is Applauded for Flaunting "Dat Ass" — But What About Kim Kardashian West?
Just days before the cutout incident, Bieber announced the cancellation of his meet-and-greets, post-show photo ops included with the purchase of a $900 to $2,000 VIP ticket, in an Instagram caption.
"Love u guys," Bieber wrote on his post. "I'm going to be canceling my meet and greets. I enjoy meeting such incredible people but I end up feeling so drained."
"The pressure of meeting people's expectations of what I'm supposed to be is so much for me to handle and a lot on my shoulders," he continued. "Never want to disappoint but I feel I would rather give you guys the show and my albums as promised. Can't tell you how sorry I am, and wish it wasn't so hard on me ... And I want to stay in the healthy mindset I'm in to give you the best show you have ever seen."
After Bieber cancelled the meet-and-greets, fans found they were unable to recoup the money they'd paid to selfie with the star, as NME reported. So the cardboard cutout, we can only assume, was an attempt to give ticket holders something for their money, rather than nothing at all. But the overture (or oversight) didn't have the intended effect, and instead attracted criticism from the Twitter community and disappointed fans alike. Seems like an easy way to sour a performance, even "the best show you have ever seen."