Frank Ocean's Producer Malay on New Album: "When He's Ready, the World Is Gonna Get It"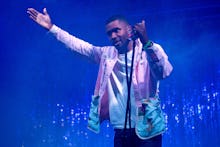 Frank Ocean might be elusive, but at least he's being productive, according to James Ho, better known as Malay. The writer and producer known best for his work on Ocean's widely praised 2012 LP, Channel Orange, spoke to Pitchfork about his work with artists like Miguel, Alessia Cara, Vince Mensa and former One Direction member Zayn Malik's solo debut, Mind of Mine — as well as briefly talking about his work with Ocean on his long delayed and highly anticipated follow-up.
Read more: 4 Artists Ghosting Just as Hard as Frank Ocean
Malay first recalled the recording process for "Pyramids," where Ocean allegedly spent 30 consecutive days in the studio working on the vocals. In contrast, the recording process for Ocean's impending album is more relaxed. "A lot of the stuff on this new album was done with a handheld mic sitting in the control room," Malay said. "Frank's exploring different vibes completely on this album. I wouldn't say it's vocally looser but just his mentality; it doesn't seem as meticulous at certain times."
But before you get too excited, Malay quelled hopes of an album coming out sooner than later. "I always tell people: When he's ready, the world is gonna get it. It could be tomorrow... well not tomorrow but maybe a month," Malay said. "We've all been working hard. He's been working super hard. I feel like he's working harder than he's ever worked in his life. I'm excited for everyone to hear it. I think people are going to be pleasantly surprised, for sure."
FWIW, Ocean has released a few rough cuts of new songs; in late November 2014, he uploaded a track titled "Memrise" to his Tumblr. In January 2015, he uploaded "At Your Best (You Are Love)," an Isley Brothers cover on what would have been Aaliyah's birthday; she had covered the song for her 1994 debut, Age Ain't Nothing but a Number.
Elsewhere, Ocean was initially featured, then un-featured on Kanye West's "Wolves" before being given a separate track on The Life of Pablo, amply titled "Frank's Track."