These Muslim Men Are Suing the NYPD for Allegedly Spying on Them After 9/11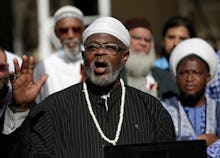 Republican frontrunner Donald Trump stunned many Americans when, over the course of his campaign, he called to shut down mosques, ban Muslims from entering the United States and establish a database to keep tabs on Muslim Americans.
But for many Muslim Americans, the threat of government surveillance existed long before Trump. 
Talib Abdur-Rashid, a 64-year-old imam from New York City, and Samir Hashmi, a 27-year-old Pakistani graduate student from New Jersey, said they suspect the New York Police Department monitored their activity following 9/11 — and they're suing the NYPD for its surveillance records.
Read more: This Graph Shows Just Why Islamophobia Is an Epic Waste of Time
"I wanted to see exactly what [the NYPD] had, what they were alleging and investigating," Abdur-Rashid told Vice. "We live in America, man. And dissent against social injustice is not a crime or a justification for being investigated." 
When the Associated Press in 2011 obtained NYPD records from 2008, the documents explicitly mentioned Abdur-Rashid's Mosque of Islamic Brotherhood. 
As for Hashmi, at the time the program was active he was treasurer of the Muslim Student Association at Rutgers University. When another AP report surfaced that indicated the program targeted such student groups, Hashimi suspected he might have been targeted.
The NYPD's alleged surveillance of Abdur-Rashid and Hashmi would likely have been a result of the department's "Demographics Unit," part of what the American Civil Liberties Union explicitly calls the "NYPD Muslim Surveillance Program." According to the ACLU, the program was established in 2002 and targeted Muslim communities throughout New York City and mosques within 100 miles.
"We always felt like it might be happening, but to get a confirmation was very upsetting to all of us," Hashmi told Vice.
The NYPD disbanded the unit in 2014, after the department admitted the years of collecting intel yielded no leads.
The two men have spent the last several years fighting the NYPD in court, including a public records request in 2012 to which the department said it could neither confirm nor deny the records requested, Vice reported. In separate 2014 trials, one court ruled in favor of Hashmi while another ruled against Abdur-Rashid, maintaining the NYPD had a right to its response to his request.
Recent events bode well for the two men. In January collectives of New York City-based Muslims reached a settlement with the NYPD that mandated the police department enforce stricter oversight of its surveillance programs.
Hashmi told Vice he's hoping the NYPD owns up to the legacy of its surveillance. 
"There's absolutely zero reason for me to be surveilled," he said. "So if they're going to make that claim, then why was I surveilled, and why are they trying to hide it?"