Gentrification in San Francisco Is So Out of Control This Man Is Living in a Box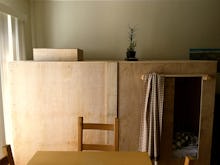 Real estate prices in San Francisco are astronomically high, and as a result, some people are looking for creative ways to save. Take San Francisco-based illustrator Peter Berkowitz: He decided he'd build a box to live in — for the price of $508 per month. 
According to a post on his personal blog, Berkowitz has what he calls a "pod" situated in his friend's living room, and the rent is divided up as follows: $400 for having the box in the living room, with the fixed costs of building it coming to $108 a month. While it seems a bit absurd, Berkowitz writes that the "silliness is endemic to San Francisco's absurdly high housing prices."
However, while the situation seems to be a dire microcosm of the real estate issues facing San Franciscans, Berkowitz admits that because of his nifty design, it's actually a very comfy living quarter, complete with a fold-down desk and a string of lights for reading. "People are typically surprised that I would want to live in a pod, but I think they tend to underestimate how pleasant a pod can be if it's designed smartly," he wrote. "It's the coziest bedroom I've ever had." 
Check out some snapshots of the pod Berkowitz provided on his website. Admittedly, it's pretty upscale.
Read more: A Man Spent 12 Years Building an Underground Home in Costa Rica — And It's Incredible