What Is 'The Ranch' About? Netflix's New Series Features Familiar Sitcom Faces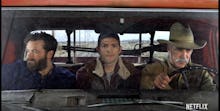 It's easy — and important — to forget That '80s Show ever happened. The esteemed follow-up to the highly popular That '70s Show was a complete flop, folding after its first season. Since then, the show's never had a proper reboot, and certainly never will. However, Netflix's new comedy, The Ranch, might be the next best thing for nostalgic fans. 
Read more: Five Years Ago, Netflix Announced They'd Make Their Own Shows — Here's How They've Done
The Ranch features two That '70s Show alums in Ashton Kutcher and Danny Masterson, who are brothers in the new series. Kutcher's character, Colt, is returning home after a semi-pro football career to help "Rooster" and their father Beau (Sam Elliott) take care of the family ranch. Kutcher has described the show's setting is in large part outdoors, which isn't the norm for a sitcom. 
"We're breaking a bunch of rules, but at the same time, it's a sitcom about fathers and sons, and what it's like to live in that town you just want to get out of," he said, in an interview with Entertainment Weekly. 
Certainly, that tone is familiar to That '70s Show: The characters living in the fictitious town of Point Place, Wisconsin, do whatever they can to avoid their mundane everyday tasks, even if it's usually settled with smoking weed in a circle. 
So far, the critical reviews for The Ranch have been positive — noting that the show is a serious competitor to the likes of network TV equivalent sitcoms. "The Ranch has more cursing and pathos than most network sitcoms, but it is the kind of show that the networks should be airing: a sitcom set in a real place, dealing with real issues," Willa Paskin wrote for Slate. " ... For the networks, The Ranch should look like a scary thing — not just a series for Netflix subscribers with right-leaning inclinations, but one for any viewers who long for a good ol' sitcom." 
The Ranch is coming to Netflix on Friday. Check out the trailer for the show below.