Donald Trump Is Gaslighting the Entire Country Over His Campaign Manager's Arrest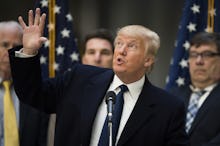 Republican presidential frontrunner Donald Trump continued to wage a spirited defense of embattled campaign manager Corey Lewandowski on Tuesday afternoon, asserting that bruises on Michelle Fields, the former Breitbart reporter whom Lewandowski allegedly assaulted, may not have come from him.
Speaking to the press aboard his private plane ahead of a campaign rally in Janesville, Wisconsin, Trump commented at length on the misdemeanor battery charge leveled against Lewandowski in Jupiter, Florida, on Tuesday, saying he would not let Lewandowski's life be "destroyed" by the case.
Read more: Donald Trump Defends Campaign Manager Corey Lewandowski Following Battery Charge
Earlier, Trump posted several tweets defending Lewandowski and casting doubt on Fields' account of events:
Lewandowski is alleged to have forcefully grabbed Fields' arm as she tried to question Trump following his speech in Jupiter on March 8, leaving her bruised and shaken. Fields tweeted a photo showing bruises she sustained during the encounter two days after the incident:
Trump asserted on Tuesday that those bruises could have been from another episode.
"Who said they were bruises were from then? How do you know those bruises weren't there before?" he said.
"I'm not a lawyer. She said she had a bruise on her arm," Trump continued. "To me, if you're going to get squeezed, wouldn't you think that she would've yelled out a scream or something if she has bruises on her arm? Take a look at her facial expression. Her facial expression doesn't even change."
To some ears, it sounded like classic gaslighting — the term, popularized by the 1944 film Gaslight, that refers to when someone spins facts in an effort to make an accuser doubt his or her own recollection of events:
Trump told reporters that the evidence against Lewandowski is too flimsy to justify a conviction, and he shows no signs of losing faith in the sharp-elbowed political operative. According to the press pool traveling with Trump, Lewandowski is with the candidate in Wisconsin.
Correction: March 30, 2016