The Secret to the Perfect Instagram, According to Lauren Conrad, Is Actually Kinda Slobby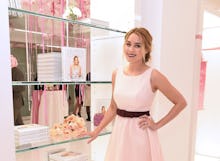 At 18 years old, Lauren Conrad shocked the MTV-watching world when she tried to swoop in on Stephen during Spring Break in Cabo. At 19, she did it again, effectively becoming the girl who didn't go to Paris. That was then.
Read more: Lauren Conrad's Lifestyle Site Bans Body-Shaming Words Like "Skinny" and "Thin"
Now, at 30 years old, Conrad is an eight-time New York Times best selling author, according to a rep from publisher HarperCollins. And if things go her way, make that nine-time, as this week Conrad released her third non-fiction book, Lauren Conrad Celebrate, a follow-up to 2010's Lauren Conrad Style and 2012's Lauren Conrad Beauty. (Her name, if it wasn't clear, is Lauren Conrad.)
In the book and in interviews, Conrad reveals the secret to party-throwing success. But really, the Lauren Conrad wisdom we really wanted to know was this: how to kill it on Instagram. 
Turns out, there's a dirty secret to looking so neat and perfect — albeit one she keeps locked away in a room in her house. 
"I literally have a room dedicated to being a disaster," Conrad said in a phone interview. "I'm constantly shooting at my house, so I have so many props. I tried to organize them, but there's just no hope. So I have a room that's full of stuff; it's organized chaos. I know where everything is ... for the most part." 
That's right, folks, the polished veneer of infinity pools and stainless steel cabinets the fragrant waft of clean linens that somehow is induced from a scroll through Conrad's IG, is all made possible thanks to one very messy secret.
How very Monica Gellar.
The roughly 300-page book, not to be confused with Pippa Middleton's 2012 book, Celebrate, reads like a lengthy Instagram post anyway — you wouldn't be faulted for trying to double-tap the pages themselves.
Beyond the clothes (yes, there's a chapter dedicated to "Fashion Credits"), the book includes passages dedicated to advice on everything from concept ("Whether it's an autumn apple-picking party or a child's birthday bash, you should be clear about the reason for your event."), to decor ("Sometimes the food and drink are the stars of the party, so let them shine."). 
Conrad's pristine aesthetic has earned her a following of more than one million people on Pinterest. Contrary to her Pinterest-ready aesthetic, she's actually got some beef with the site. 
"I think you can get caught up in it and it seems like no time has passed but really you've been in front of a computer for several hours. It's sort of a distraction when you're trying to get stuff done," she said. "You think you're trying to look for this one thing and then your'e looking at examples of embroidery three hours later." 
Same.
Perhaps most importantly of all: How does Conrad feel about forever being the girl who didn't go to Paris? "If that's the worst thing they're saying..." she said with a laugh. "But definitely not one of my proudest moments."
Lauren Conrad Celebrate was released Tuesday, March 29.
Correction: March 30, 2016