North Carolina Gov. Pat McCrory Calls Criticism of Anti-Trans Bill a "Smear Campaign"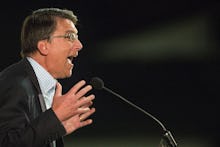 North Carolina Gov. Pat McCrory signed into law on Wednesday House Bill 2, which mandates every person in the Tar Heel State use the bathroom that corresponds with their biological sex at birth. The bill, known as the Public Facilities Privacy and Security Act, also restricts local municipalities from passing nondiscrimination ordinances. 
The governor and the bill have been met with much criticism, including a tweet from a transgender man in Georgia that has recently gone viral. But McCrory released a video message Tuesday, describing much of the criticism as a "smear campaign." 
Read more: In Wake of Anti-Trans Law, North Carolinians Tell the World #WeAreNotThis
"North Carolina has been the target of a vicious, nationwide smear campaign," the governor said in a video, released on YouTube. "Disregarding the facts, other politicians — from the White House to mayors and city council members and, yes, even our attorney general — have initiated and promoted conflict to advance their political agenda, even if it means defying the Constitution and their oath of office." 
"Obeying the laws of the land and living up to the duties of the office and defending the Constitution is the foundation of our state government," the North Carolina governor continued. 
The governor said he signed the bill because the expectation of privacy of North Carolina citizens was at risk and could have been violated.
The American Civil Liberties Union of North Carolina, Lambda Legal and Equality NC filed a lawsuit against state officials regarding the bill on Monday.