Chris Brown Humiliates Kehlani for Her Attempted Suicide in One Gross Tweetstorm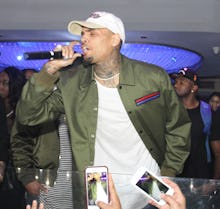 Yet again, Chris Brown is making headlines for all the wrong reasons.
In a bizarre tweet storm of invective late Tuesday night, Brown mocked 20-year-old star Kehlani's recent attempted suicide — which came following allegations that she cheated on her boyfriend, Cleveland Cavaliers star Kyrie Irving. 
One of those "nasty people," it seems, is Chris Brown.
Brown concluded several hours later with a follow-up defending Kyrie as "one of the only good guys left," and ended with a denouement suggesting that he didn't care what anyone thought of his tirade.  
It's not the first time Brown has drawn ire. In 2009, he was charged with two counts of felony assault after beating his then girlfriend Rihanna and was sentenced to five years of probation and six month of community service. He also faced additional felony assault charges in 2013 after an altercation at a hotel in D.C. 
Online reactions to Brown's latest actions were swift and condemnatory
Get the five stories that will challenge you to rethink the world by signing up for MicCheck Daily.