Watch James Corden Send Leo DiCaprio a Flirty Text From J. Lo's Phone, Caress His Face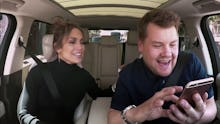 We can't decide what's best: the moment Late Late Show host James Corden stole Jennifer Lopez's phone to trawl through her star-studded contacts; that he proceeded to send Leonardo DiCaprio a flirty text; the instant Leo responded; or the bit of knowledge that Leo calls J. Lo "boo boo."
OK. It's definitely boo boo.
But that was the crowning moment of an entire segment dotted with gems on Tuesday night's Carpool Karaoke, which is quickly becoming the best reason for staying up past your bedtime on a school night. 
Read more: James Corden's "Carpool Karaoke" Is the Best Thing About Late Night Right Now
In between learning how to seductively replicate J. Lo's signature music video face-caressing...
... and that she's had more proposals than marriages, Corden decided to have a little fun with her phone.
After rummaging through J. Lo's contacts — passing by Demi Lovato, Chris Brown and Bradley Cooper — Corden settles on Oscar-winning heartthrob DiCaprio.
"Hey, baby. I'm kind of feeling like I need to cut loose. Any suggestions? Let me know, J. Lo (you know, from the block)."
Ever the gentleman, DiCaprio doesn't take long to respond: "You mean tonight, boo boo? Club-wise?"
Oh, to be Leo's boo boo.
Watch the full segment here: