UK Newspaper the 'Sun' Asks for Cleavage Selfies, Gets Trolled Hard by the Internet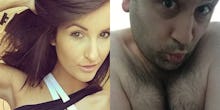 When a major tabloid newspaper sends out a tweet essentially asking women of the world to send nudes, they should have seen what was coming. The Sun, a daily tabloid newspaper based in the U.K., posted a picture on Wednesday morning of a woman taking a selfie in a black and white bikini, and encouraged audiences to send in their own cleavage self-portraits — the plan backfired completely, of course. 
"Got some front?" the Sun captioned the Twitter picture Wednesday. "Share your breast cleavage snaps for chance to win £1,000." The publication has promised a photo shoot and the cash money to whomever they feel is the "breast of the bunch," apparently. 
The annual contest specified exactly how it wants contestants to send in their pictures, telling women to "choose a sexy bra" or the "right" top and to "apply makeup," with a photo of a women contouring her breasts. Example photos the Sun has so graciously provided include snaps of Kim Kardashian West, Irina Shayk and Vicky Pattison.
The undeniably misogynistic contest is just another example of the double standard among men and women when it comes to putting their best assets on display. Luckily, nobody was having it — including Britain's finest gentlemen.
So, the Sun, let me ask you: could it be this man who is truly the most breast-tastic of them all?
Sexy selfies are always about the angles... and optical illusions:
Definitely just as much a fan of the classy and covered take on the Sun's cleavage contest:
But shout out to those who are really just going for it:
"What a perfect use for that selfie stick I bought in 2015 and never used!" 
This man is giving so much face. Okay, maybe a little too much face...
The competition closes on Sunday, April 10, so if you were ever thinking of confidently displaying your "front," or just feel like putting yet another misogynistic campaign in its place, now is your time. 
Read more: Bieber Is Applauded for Flaunting "Dat Ass" — But What About Kim Kardashian West?