Men Launch "Babes for Trump" Instagram — Features Mainly Boobs and Asses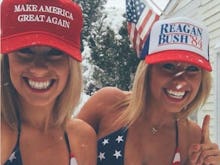 In another vein of using social media to express political support for a potential president are the "Babes For Trump" accounts on Instagram (down at press time), Snapchat and Twitter. For a taste of what the feeds are like, one Twitter post from March 26 is just a photo of the back of woman in a swimsuit with Trump's "Make America Great Again" slogan written on her butt cheeks. The other posts vary only slightly. 
All the photos are submitted by the women themselves, and they shouldn't be shamed for wanting to show off their bodies — but Trump doesn't exactly have the best reputation when it comes to respecting women. While hashtags like #Babes4Trump and #TrumpGirls are usually included in the caption, the women's political ambitions and beliefs are not.  
The non-satirical account is run by four male college students and features pictures of scantily clad women showing their support for Trump. The accounts aim to "create a unique platform for college students, primarily women, to express their political views," and break the stigma that women don't like Trump, the guys told the Vice. 
So far, the Instagram account has about 3,000 followers, according to the Huffington Post. The Twitter has just under 1,400 as of Wednesday morning. 
The guys think that women find Trump sexy because of his "bad boy" attitude, they told Vice. "He isn't afraid to be controversial or speak his feelings," they said. "We also think he can be considered sexy because of his past with women — it's well known that Trump likes an attractive woman."
Recently, the GOP candidate tweeted out a sexist side-by-side picture comparison of his wife Melania Trump next to Ted Cruz's wife, "presumably to prove that Melania is hotter" as the Huffington Post puts it.
Babes For Trump did something similar, posting a side-by-side comparison of female supporters for Bernie Sanders and Trump (only Trump's were basically just butts), according to the Huffington Post. "People shouldn't make a decision based off an ass, that's ridiculous," the account runners said. "The people who follow our account are more likely to be attracted to a woman like the one associated with Trump in our picture, compared to that of the Bernie supporter. It's also evident that some people may find the opposite to be true, where the Bernie supporter may be found more desirable."