Hillary Clinton Avoids Tough Talk on Wall Street While Taking Her Pitch to Harlem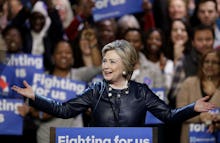 NEW YORK — Hillary Clinton was live at the Apollo on Wednesday.
Kicking off her first major campaign event in New York in the run-up to the state's Democratic primary on April 19, Clinton chose the legendary Apollo Theater in Harlem to tout her legacy as a former New York senator and celebrate the state's diversity in preparation for the crucial nominating contest. 
The location of campaign speeches is always strategic, and this was no exception. Situated in the heart of Manhattan's most culturally and politically energetic black community, the concert hall was an appropriate venue for Clinton's main pitch to New Yorkers — that she's running the most inclusive campaign for the presidency today.
It also happened not too far from Wall Street, where her many connections have drawn constant scrutiny from progressives, and which she had conspicuously little to say about. Instead, she spoke of the economy in vaguer terms of middle class empowerment.
"I think the easiest way to describe what my campaign is about, is that it's about breaking down the barriers that are holding people back from sharing in the promise of America," Clinton said.
Read more: Donald Trump and Bernie Sanders Have This One Surprising Thing in Common
The speech: Clinton described her three main criteria for a strong presidential candidate in the form of questions: "Can you deliver results that improve people's lives? ... Can you keep us safe? ... Can you bring our country together?"
The first two questions are most relevant to her the way Clinton's gone about distinguishing herself from her rival Sen. Bernie Sanders (I-Vt.). She revels in depicting herself as a progressive who "gets things done," in contrast to her competitor's advocacy-focused style of politics, and has used her experience as secretary of state to run circles around him in debates. But her third point on bringing the country together cuts both to her left and to her right.    
Despite a long history of supporting policies that have wreaked havoc on communities of color, such as the 1994 crime bill and the 1996 evisceration of welfare, Clinton has presented herself in this election cycle as far more able and interested in attending to their needs than Sanders. Ripping Sanders as a "single-issue candidate" — a line of attack she's quite fond of — she said that fixing class inequality wasn't enough — "systemic racism and discrimination" must be torn down as well. 
Her remarks on inclusivity weren't pitch perfect. At one point, while discussing breaking down barriers, she curiously blurted out, "I take a back seat to no one," in what seemed like a clumsy attempt at evoking the memory of Rosa Parks, the black woman who famously refused to give up her seat to a white man on an Alabama bus in 1955.
Just miles from ground zero of the financial crisis, she was unusually quiet on the misdeeds of Wall Street.
But on the issue of bringing the whole country together, she pointed to Donald Trump and Ted Cruz as enemy No. 1. "Their entire campaigns are based on pitting on us versus them," she said as she listed their draconian stances on immigration and surveilling Muslims.
Clinton gave nods to raising the minimum wage, the importance of investing in sectors that would revive the middle class and penalizing companies for taking jobs overseas. But she sounded less populist than she has in months past, when she faced more direct pressure from Sanders to appeal to the growing populist sentiment in the Democratic electorate. Just miles from ground zero of the financial crisis, she was unusually quiet on the misdeeds of Wall Street. It was likely a bit more difficult to speak ill of old friends while in such close quarters.
But she did speak at length about another crisis — the attacks of 9/11. Clinton and her surrogates are spending a great deal of energy playing up her work on getting health monitoring and financial aid to 9/11 first responders as a senator, an accomplishment that has won her respect among many Democrats in the city and the state.
Demographic trends in Democratic voting this year and polls indicate that Clinton is likely to do quite well in the delegate-rich state's primary later in April. Her campaign's focus at the moment is ensuring that the margin of victory is as wide as possible, so she can maximize the credibility she possesses if she wins the nomination. 
Sanders' supporters have their work cut out for them, but the senator does have a few big factors going for him. He's a Brooklyn native, and and leftists in New York have proven to be pretty effective in mobilizing in recent years, whether in the form of Occupy Wall Street or the surprising success of Zephyr Teachout's left-wing run against the state's incumbent Democratic governor in 2014. 
A Sanders' upset seems unlikely at the moment, but then again, making serious predictions in this election cycle is a fool's errand.