The Internet Is Furious About a Scale Said to Encourage Anorexia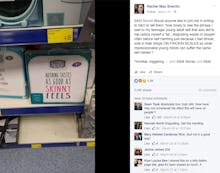 Is being skinny more important than ever letting a speck of food pass through your lips? These appalling bathroom scales say yes.
People are infuriated at U.K. discount store B&M for carrying bathroom scales emblazoned with the phrase, "Nothing tastes as good as skinny feels," arguing that the slogan promotes anorexia and other body image issues.
The scales were first photographed by Rachel May Shevlin, who shared the image in a Facebook post that's since been shared more than 2,000 times. Next to the photo, Shevlin described how the scales made her think back — painfully — to the body image issues she experienced as a teen and young adult:
Would anyone like to join me in writing to B&M to tell *them how lovely to see the phrase I said to my teenage/young adult self that also led to me calling myself a "fat, disgusting waste of oxygen," often before self harming just because I had dinner, sold in their shops ON FRICKIN' SCALES so other impressionable young minds can suffer the same self hatred?
"Absolutely foul, toxic shit," one commenter wrote. "How have they not considered the effect this will have on people?!"
"Horrified," another commenter said. "As someone who refuses to allow scales in my house anymore, thanks to sentiments like the above ruining years of my life, this is probably the worst thing I could imagine."
Thankfully, one of the comments was from B&M's Facebook account, saying they'd asked the supplier to withdraw the quotation from its novelty scales. 
"Hi Rachel, We have asked its supplier to withdraw this particular quotation from this range of novelty £3.99 weighing scales," the comment said. B&M has been delivering the same message to critics of the scales on Twitter.
h/t Mashable
Editor's Note: For information about eating disorders or to speak with someone confidentially, contact the National Eating Disorders Association at (800) 931-2237 or via online chat. NEDA provides free support Monday through Thursday from 9 a.m. to 9 p.m. Eastern and Friday 9 a.m. to 5 p.m.