Rihanna's "Kiss It Better" Video Teased Online, and It's Totally NSFW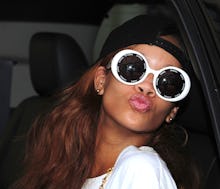 Good news for those of you possibly playing "Work" out: Rihanna announced on Tuesday night that she is releasing "Kiss It Better" and "Needed Me" as Anti's second and third singles. Additionally, Rihanna uploaded screenshots of her "Kiss It Better" music video on her Instagram and Twitter, and announced that the video will premiere Thursday at noon on Vevo.
Read more: Rihanna Reveals Her Greatest Regret — and It Of Course Involves a Bedazzled Thong
Two of the "Kiss It Better" screenshots depict Rihanna naked and arching her back on the floor under a silken cloth. A spotlight in the background is the only light source in the room, illuminating a moody blue and a dusk-like yellow.
The final image appears to depict Rihanna with another person; under a sultry red cloth, one of the two embraces the other with a kiss.
Rihanna also provided a short black and white snippet of the video, where she thrusts a couple of die from her pelvis.
Fans on Twitter reacted with excitement, as well as some amusing impatience.
Re-familiarize yourself with the song below:
March 30, 2016, 12:23PM: This story has been updated.