Whoopi Goldberg's Line of Marijauna Products Could Solve All Your Period Pain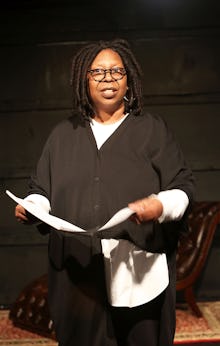 Academy Award winner Whoopi Goldberg is now trying her hand at a new business venture. The 60-year-old actress announced Wednesday that she has become the chairwoman of a new brand of medical marijuana products, through the scope of her "Whoopi & Maya" company, that will target menstrual pain. 
"I want to go nice and slow with this," Goldberg, who started the company with financial support from friends and family members, told USA Today. "I don't want this to be a joke to people. It's not a joke to women." According to USA Today, the company, based in San Francisco, will promote four products: "a balm, a tincture, sipping chocolate and a bath soak."
Read more: The Booming Marijuana Industry Is Still Too White
For those who believe this to be an opportunistic venture for what has become a booming industry, Goldberg claims that she has always been a fan of marijuana. "I've always been in favor of cannabis. I always felt like it was a great, wonderful drug," the actress told Newsweek. "But I've seen over the last 50 years how it's dealt with. I've been doing research, discovering the lie of cannabis as a Schedule I drug. Based on folks who work with hemp, we see that there are a lot of applications for this." 
Those interested in the comedian's medical marijuana products must live in the state of California. They must also possess a state-licensed medical marijuana card.
"Nothing works for everybody, but we're seeing that there's a lot that cannabis can do," Goldberg told Newsweek. "I don't know that our product is better than anybody else's product, but I know that our product is geared specifically for [women]."