Infographic Shows How Many Premature Births Are Linked to Air Pollution — and Their Cost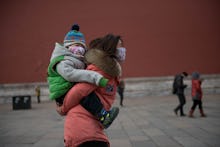 Air pollution isn't just dangerous to breathe. It's also expensive. Like, $4.33 billion-a-year expensive.
A new study from NYU Langone Medical Center and the New York University School of Medicine claims that air pollution has given the U.S. an additional 16,000 premature births — accounting for about 3% of total premature births. 
The medical expenses to deal with premature-birth-associated health issues — behavioral problems, cerebral palsy, asthma, dysplasia, infections, intestinal problems and a host of others — clocks about $760 million annually. 
That's hospital stays. Medicines. The devastating costs and unforeseen emergencies that come with an immune system that wasn't, traditionally speaking, ready for action.
The other $3.57 billion, according to the study's lead author, Dr. Leonardo Trasande, accounts for what's being called "lost economic productivity" — the impact premature birth has in the long run on the workforce.
"Air pollution comes with a tremendous cost, not only in terms of human life, but also in terms of the associated economic burden to society," Trasande says. "It is also important to note that this burden is preventable, and can be reduced by limiting emissions from automobiles and coal-fired power plants."
Let's table the alleged economic impact. What's important here is — according to data from the Environmental Protection Agency, the Institute of Medicine and the Centers for Disease Control and Prevention — air pollution is taking a major toll on our babies. And it's doing so with ferocity in urban parts of southern California and the eastern U.S.
If $760 million a year sounds like a lot now, think of how much it will be when the number 16,000 rises — which is inevitable when you look at the state of air pollution on Earth and how companies are reacting. Forget the impact on the workplace. If we don't actively lower air pollution, we're actively stunting our livelihood. Period.